IFLS Intellectual Freedom Working Group
Are you passionate about Intellectual Freedom and interested in making sure that the public libraries in our system have the support they need to prepare for and face challenges? Consider volunteering for the IFLS Intellectual Freedom Working Group.  This group will advise IFLS staff on the resources created to ensure that what we are providing is relevant for your needs. If you are interested in participating, please send an email to Leah Langby (langby@ifls.lib.wi.us).
Reminder: Switch to the Libby App
In early 2023, the OverDrive app will be discontinued. Users are encouraged to switch to Libby, the newer reading app from the OverDrive company.  Here are some resources to help with the transition:
See the IFLS E-resources page for more information. Questions? Contact Cecelia Cole, IFLS Resource Sharing & Collection Consultant.
Those Beautiful Day Passes
Remember to send your favorite hikers and skiers over to Deer Park Public Library to pick up their free State Park Day Pass and information. The pilot program ends March 1, 2023. Here's what they get with the pass: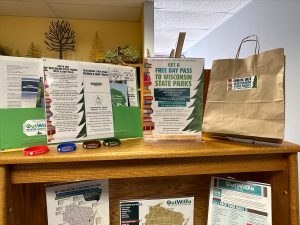 Coming Up
Reluctant Library Advocate is over: you can still get the info!
This was a great presentation by Jill Markgraf! Take a look.at the slides Video and webinar handouts will be added soon.
Eleventh Annual Wild Wisconsin Winter Web Conference, January 25-26
Registration is now open for this free, virtual, 2-day webinar bonanza!
Fourteen webinars (plus stretch breaks).
Tracks include Management, Reference and Reader's Advisory, Marketing, and Sustainability.
It's going to be great!
Check out all the offerings and register here:  https://www.wildwiscwinterweb.com/
Director Virtual Check-in: Year-End Round-Up.
Reminder: Contribute to OverDrive Advantage Fund
As you review year-end budgets, if you would like to contribute funds to the IFLS OverDrive Advantage fund, please let Cecelia know no later than Monday, December 12th. Details in last week's Digest.
January 5 Launch: Tell Your Library Love Story 2023
Watch for your updated toolkit. The survey is open and live now. Anne will be dropping in buttons throughout the month. Remember that you can use the survey as a staff person to record testimonials!
New!
Kits!
We have two new programming kits.  If you haven't used the programming kits from IFLS, WVLS, and NWLS, you are missing out!  If you have questions or suggestions about kits or are having any trouble with the Lend Items site, reach out to Leah!
Early Childhood STEM:  Shapes and Counting Kit—Good for ages 3-8, this kit has lots of tools and games for exploring and playing with numbers and patterns for young kids.  Includes:  wooden geoboard, pattern blocks shape set, teddy bear color classification and counting set, a wooden Stacking Garden, the card game Tiny Polka Dot, and 100 colorful, interlocking cubes.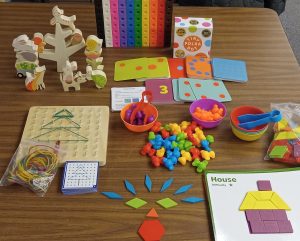 Programming Kit:  All Together Now Collaborative Play – Just in time for 2023's Summer Library Program but great for any time of year, this kit will be excellent fro promoting collaborative play with Kindergarten through Fifth Graders, with a spinning top building kit from Rigamajig and three collaborative board games (Sloth in a Hurry, Lion in the Way, and Gnomes at Night).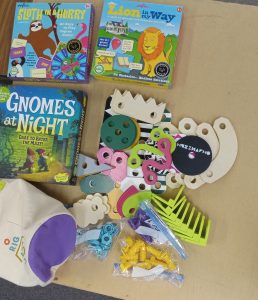 On the website
Send contributions to the Weekly Digest to Reb (kilde@ifls.lib.wi.us) before end of the day on Wednesdays.