A resource for Wisconsin public library directors, staff and trustees about library building and renovation projects. 
Find on-demand webinars and resources from professionals across the state, as well as a list of recently completed projects from Wisconsin libraries. Topics include renovation, space reconfiguration, new building projects, and more.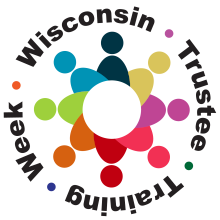 Wisconsin Trustee Training Week, August 21-25, 2023
Free! Recordings are available.
Library Director Hiring Guide
Your library director has just announced they're leaving. Now what? You've never done this before, where do you start?
Hiring a library director is one of the most important and challenging duties of library boards in Wisconsin. Trustees have to figure out what kind of leadership the library needs, find a candidate withthe skills to meet those needs and then foster the new director's success.
Every library is unique, and each hiring process is different, too. It can be a complicated and overwhelming task.
The IFLS Library System can help, with step-by-step navigation throughout the process or targetedguidance as needed.

Recordings available by August 8
How to view:
Go to the access page, navigate to Wisconsin and either log in the the Access link or use the Register link to create your free account.
Free access was paid for by the Wisconsin State Library.